— 10/06/2023 —
Стажировка White & Case Summer Program в Москве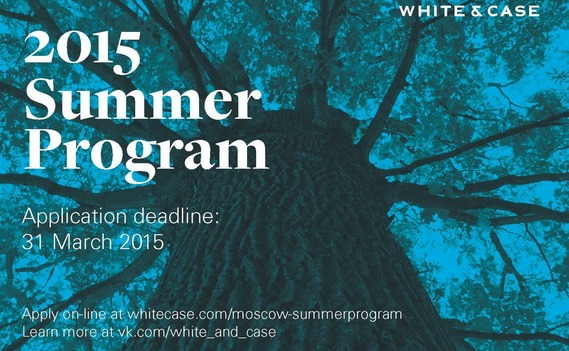 The cornerstone of our graduate recruitment efforts, this Program is designed to give Russian law students insight into what it's like to be a White & Case lawyer.
The Program is a structured and guided work-based learning program and it is tailored to make the most of your skills and ambition.  Summer interns are matched with an associate advisor who acts as mentor. Interns are involved in actual client projects like legal research, due diligence, preparation of legal documents, as well as in a variety of activities and social events. Interns have the opportunity to work for two practice areas to broaden their experience. This on-the-job practice also includes a comprehensive orientation, regular training sessions and seminars.
Just as students experience real work as a summer intern, they enjoy being part of our team. Summer interns take part in several social functions where they have the chance to build greater rapport with peers, mentors and colleagues.

Таня Румянцева
Координатор по набору молодых специалистов и профессиональному развитию в
White & Case
Since the opening of our Moscow office in 1991, White & Case has established itself as one of the leading law firms on the ground in Russia. With a team of more than 60 lawyers, including 13 partners, we advise on some of the most high-profile and innovative deals in Russia.
Our lawyers are qualified to practice law in Russia, England and Wales and the United States. This unique combination of Russian and internationally qualified lawyers on the ground in Moscow allows us to provide integrated advice for all of our client's needs.
The quality of our advice consistently wins praise from clients and independent observers of the legal market in Russia, including Chambers, The Legal 500 and IFLR1000, which rank us in the top tiers across all key practice areas.
We have been a longtime supporter of legal education in Russia. We collaborate with leading universities to produce partner-led seminars, a hands-on summer internship program for university students and sponsorship of the Jessup program in Russia.
Требования
Eligibility for the Summer Program:
full-time law students in fourth and final years of studies (graduating in 2015 and 2016)
passion for law
enthusiastic and proactive
strong knowledge of Russian civil law
fluent spoken English
excellent written English
team player
participation in Jessup, Willem Vis and/or other moot court competitions or any other extra-curricular activities a plus
top academic results
able to work full time from 1 July to 31 August 2015
Условия
How to apply for the 2015 Summer Program:
Please submit:
your resume in English
a cover letter stating the reasons why you would like to apply for the summer program and indicating two practice areas of your choice
a written essay on one of the below topics:
Is there a powerful charismatic leader or person who has influenced or inspired you? And if so, please explain why and in what way.
Who is your favorite writer/ poet / film or drama director and why? Or what is your favorite book / film / performance, etc. and why?
Describe a situation where you worked effectively as part of a team to accomplish a goal on time. What was your role? What did you learn?
How would you define "success" for your career? At the end of your work life, what must have been present for you to feel as if you had a successful career?
If you had a magic wand, what would you change about yourself and why?
Please apply on-line by 1 April 2015 or come up to the White & Case stand and apply in person at Moscow Law Universities career days.
Compensation: We offer competitive salaries to our summer interns. More information on compensation will be provided during the interview process.
Interview process: Our interview process usually includes in-person interviews with HR team, lawyers and partners to enable us to get to know you and allow you to get a feel for our environment. Interview questions represent a mix of general motivational and legal questions. You will also be given a legal research assignment in our office. The selection process takes approximately one month.
Оплата